Every Bitter Thing Is Sweet Book Launch!
Dear friend,
There have been difficult seasons in my life when the Lord has ministered so intimately and so vividly that I am left forever marked, long past the seasons of trial. Often in those times, the Lord has spoken His tender words of healing, revelation, and love to me through His people.
I want you to meet one of those people. Any attempt of mine to describe the wealth of treasure that this friend is to my heart will fall far short.  So, I will introduce you to her, because you have to meet her. To meet her, is to encounter the Living God alive in her heart.
Everyone has a story. And, for many of us, our testimonies involve pain, wounding, and hardship. I have found few people who walk into these circumstances with joy and come through the difficult times with an even deeper joy and with a testimony of a God bigger than they ever realized.  Fewer still are those willing to meet the Lord in the depths of their pain and seek to know him more intimately there. My dear friend Sara is one of these few. And she's written a book.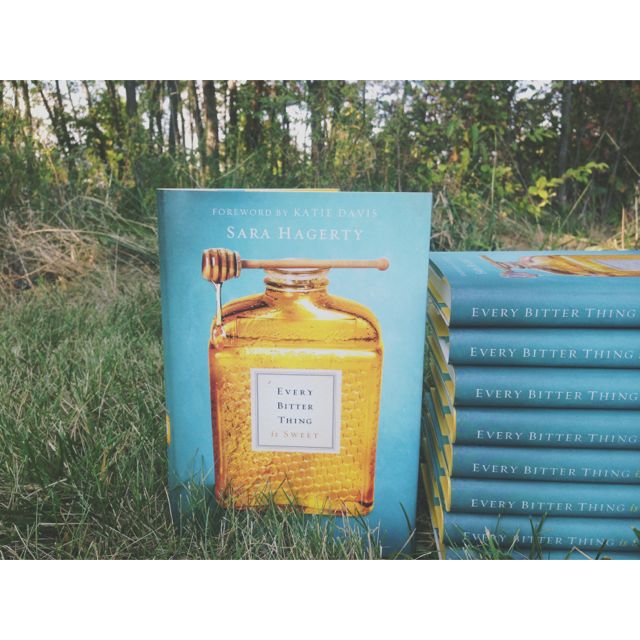 Nearly a decade of infertility, financial loss, a strained marriage, and becoming a mom to wounded children whom she did not birth are all threads that have been woven into the tapestry of her life.  Whether or not you have experienced some of these same things, I believe you will find your heart reaching for the Father she has come to know so intimately as you read her book. You were meant to reach for Him, to have a hunger so strong, so insatiable, that even pain becomes an opportunity to know Him and to count everything as loss–reputation, dreams, relationship, position, wealth–for the sake of gaining deep stores of treasure in Christ (Philippians 4:7).
You will learn how to look into the face of a loving Savior, through His Word, and you will begin to look at trials and hard circumstances differently. For, it's in the most painful of circumstances that He is waiting to show you His heart. He wants to be known, fully, this One who already knows you so intimately.
At a particularly painful point in my own story (about which I've not yet been given permission by the Lord to write about), the Lord brought Sara into my life. As I've sought the Lord, and through her faithful friendship–several years of hundreds of hours logged in deep heart sharing, laughter, many tears, and many reminders to look up to and practice adoring the One who is able to help me seek Him–the Lord has transformed my heart. I want you to have the opportunity to encounter the heart of the Father through Sara's writing, in a similar way that He has encountered me through her heart. He's given her a gift, and it's for you, too.
My prayer is that as you read her testimony of who the Lord is, that you will grow in your wonder and awe of this God-man, who has bowed the heavens for those He calls His own. My desires is that as you continue seeking the Lord, the depth of intimacy you experience with Him would exponentially deepen (I want this, too!). So often, the Lord uses our testimonies to strengthen, encourage, and embolden His children. I have no doubt that His purposes are any less for this book.
This is not a woman who desires fame, or to be a bestselling author. She has no ambitions of being "great" in the world's eyes. What she desires more than anything, and the reason for her obedience in putting pen to paper, is to attempt to show you a God whose beauty is stunning, and whose worth is beyond words.
So, get a good cup of coffee, a box of tissues, and devour this book. It will be time well spent.
For the fame and glory of Jesus,
Kelly
Order the book here.
**Order the book before Tuesday, October 14th and receive (free) a song written and inspired by the story (which is pretty AMAZING) AND a 16-Day Adoration Devotional written in companion with the book. (You can get the devotional and song for as many books as you order – 1 or 30!) For details, go here.
If you've not seen the book trailer, check it out here.