Welcome to our new home!
Welcome!  We are finally in our new home and are getting settled.  The "settling" is truly my favorite part. I love being at home and making a home.  The most exciting aspect of this move is that it is actually mine. We have moved eight times in eight years and this is the first house that we have truly owned.  Unless the Lord suddenly changes His plans for us (to which we are always very open!), we hope to be here for a very long time.
We are situated on 40 quiet acres and it's just gorgeous.  I grew up in the city (suburbs of DC) and have desired to live in the country for as long as I can remember.  This move has been a long time of waiting on the Lord (relatively speaking!) and it is the fulfillment of several dreams for both myself and Blane.  We are truly amazed at the generosity of the Lord to our family and are excited to raise our family here.
Want a little tour?  I'm keeping to the outside of the house for now.
When you come down our quiet street before turning onto our driveway, you'll see this beautiful field across the street to your left  (part of our property):

Turn right onto our driveway, and you're on the way up to the house (minus the horse!):
Drive 1/2 mile or so up and around to the front of the house: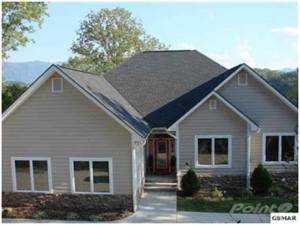 Come on in and you'll enjoy this view out of the kitchen, dining room, and master bedroom:
We can't wait to see how the Lord uses this land for the benefit of others!  We are grateful to be stewards of such a beautiful place.