Friday Faves
It's that time again!  There have been so many favorite things this week!  I can't wait to get back here to write more beyond the surface, but life has continued to be super-full (hmm, not sure that it will cease!).
1.  Company in our home.  Blane has been driving 3 hours a day since we moved mid-April and it's been extremely hard to have any sort of life, period.  So, as we close this chapter (soon) of the gas-sucking, budget-draining driving, it's been fun to have people in our home already three times this week!  I'm uber-excited about Sara's family's visit this weekend! (And next! I'm eating icing two weekends in a row off of this cake of visitors!)
2. Daddy with his kids. Blane finished draining and cleaning our pool and it's in the process of filling.  The kids had a blast last night "swimming" with daddy (well, sort of. Neither want to go under water, but Daddy is determined).  I personally can't wait to get my big belly into the water. I've never been in while pregnant and I've been told multiple times that Blane will have to  drag me out of it.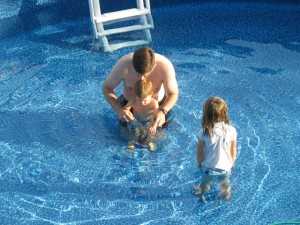 3.  Tara's art. The girl has a God-given gift and it's exciting to participate with the Lord by encouraging her and cultivating something she loves.  Right now, this means having reams and reams of white printer paper available and replacing markers every few months. 

  I am handed a stack daily after rest time and look at them with her while she gives an explanation.  The nightstand next to my bed is practically bursting at the seams with Tara art, drawn just for Mommy.
4.  Another week closer to meeting Tarr baby 3, and a healthy check-up. Tomorrow, I'll be 31 weeks and am starting to get antsy to meet the baby.  I have officially taken over the bed by recently adding a tri-folded king comforter to sleep on top of, in addition to a pillow on either side of me.  A girl's gotta do what a girl's gotta do.  I'm also so thankful that baby and me are healthy at this point.  I'm praying things will continue this way and that she'll be full-term.  I'll even be thrilled if by her "due date" she decides to arrive.   That'll be the day! I won't know what to do with myself (Tara and Brant were well past their dates).
5.  Conversations with Tara about the future. The thought of getting married and moving away from mommy is upsetting to Tara (it's come up several times).  So, we made a deal over dinner this week.  If she and her husband live down the hill (in a tent, as suggested by daddy), they can come for dinner IF they do the dishes (they'd need to come for dinner because she concluded quickly that if they live in a tent, she wouldn't have a way to fix dinner).  She said it was a deal.  Blane said we need to start getting all the outrageous promises recorded now. 

6.  Fudgsicles. I found a great recipe on Pinterest and we were pleased (click on the picture to see the recipe)!