Tirza Katherine: Pleasant & Pure
What an exciting week we've had at our house!  On Saturday the 18th, her due date, we welcomed Tirza (Teer-zuh) Katherine into our family.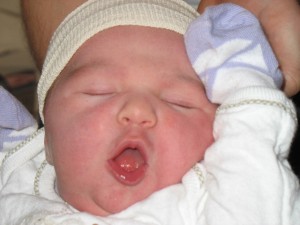 My history of going well past my due date had me originally thinking it would be the same this time around.  However, when we found out that our dear friend Katherine, who has helped us with every labor and delivery and life afterward was indeed able to come again, we began asking the Lord when to have her come.  She is married now with a son, and I wanted to be sensitive to her time.  In the past, she's come for an indefinite period of time, since we didn't know when the baby was coming, and stayed with us roughly two weeks.
After we began asking the Lord, I had two dreams that she was born the day before my due date, sometime in June.  Unsure at first of what to do with my dreams, Blane said we should accept them as from the Lord and move forward with faith and have Katherine come two days before my due date.  By the time he said this, I was feeling confident that indeed, these dreams were from the Lord.  So, we made plans for Katherine to arrive on the 16th, and began expecting a baby on the 17th (interestingly, my due date with Tara, 5 years ago).
Katherine arrived as planned, and sure enough, around 4pm Friday, labor began.  I had struggled off and on that week with believing the Lord would cause this whole process to begin on that day.  However, a good friend encouraged me to ask Him, and to believe that He would be faithful.  My perspective was that IF everything didn't happen on the 17th, the worst I could be accused of was believing the Lord would be so kind to communicate to us in this way.
And God showed up!  And we stand in awe of Him, again reminded of His kindness and faithfulness.
Lessons in Strength and Endurance
After 22 hours of labor, Tirza was born.  Rating the three labors, this was second in difficulty, both due to the length of time and level of pain.  We have chosen to do home births, which is not something I broadcast, but in order to effectively communicate how the Lord has been my helper, I think it's an important piece of the puzzle.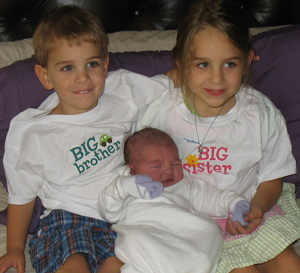 Our midwives (there were three) are all believers.  The main one (Teresa) that I had been seeing is like a mom–calm, comforting, confident, and firm when needed.  When it came time to push, I was exhausted and began saying that I can't do it.  Everyone (five people total, including Katherine and Blane) firmly told me that I could.  Teresa strongly told me that the Lord must be my strength, and that He will be my strength.  So, I began crying out (seriously) to the Lord to help me.  (I'm in tears as I type this, and have been every time I've shared)  I literally had no strength left and the only way that she was going to get here was with His help.  Everyone prayed for me and coached me through, reminding me where my help was coming from.  Finally, she came.
Labor without medication is painful.  I don't look forward to it, or enjoy it.  We've chosen this route due to various convictions and information we've read over the years (so hear my say that I do not believe it's wrong to have medication–sin has entered the world as a result of the fall and it's natural to want to alleviate its affects, and many times is good).
Throughout this pregnancy, the theme that overshadowed everything was that the Lord is my strength, and that He was teaching me and building in me an enduring heart.  I am thankful for the gift of children, but don't enjoy being pregnant.  It's very hard for me on several levels.  There were many tears and cries for help, strength, pain relief, etc throughout the journey.  I expected that labor would be a continuation of these lessons, but I didn't expect it to be 22 hours worth!!
The Lord has proven time and again that He IS my help in a time of need and trouble.  He is able to help me, He is able to sustain me, to give strength…so that I can endure and come out on the other side stronger.  There are several Psalms that I have clung to over the past few months and reminded myself of during labor, even when it got to the point of only being able to tell myself that the Lord is my strength.
The Meaning of Her Name
I am unsure of when we decided on Tirza, but I am sure we've had the name for a few years.  We went to college with a Tirzah and it's a name in the Bible.  The reasons we chose it were because we thought it was beautiful and feminine.  It wasn't until just before my pregnancy when I learned the meaning of it.  Tirza (Teer-zuh) means "pleasant" or "she is my delight."  As I prayed and asked the Lord about this little girl, it was clear that this is her name–this is who she will be.  Her middle name, Katherine, means "pure."  Oh, the significance behind this is huge, as I believe the Lord is going to give her a pure heart of devotion for Him.  She is also named after our dear friend Katherine, who has helped with each labor and delivery.  Her life is a testimony of purity before the Lord and she is one whom I want all of our girls to know and learn from as they grow.
So, this week has been sweet.  It's hard to believe we have three kids, yet it seems completely normal.  The kids have done really well, despite a few issues, but to be expected and nothing significant.  I love the first few days of life with a new baby, despite the challenges that come with healing and nursing. It's all worth it and very temporary.  I always cherish this first year of waking in the night to feed the baby, because I'm so very aware of how fleeting this time is.  I will never trade these nights for anything!