Jesus on Every Page: Book Review & Giveaway
I'm excited to share about a new book with you today. I have pondered and prayed through how to share about it, because there are many angles I could take as I present it to you. The one I keep coming back to is this: Jesus on Every Page serves to equip mothers to show their children the centrality of Jesus in all of the Bible.  As moms, we have a precious responsibility entrusted to us in the discipling of our kids. I want my kids to love the Lord with all their heart, soul, mind, and strength. To lead them to Jesus is the highest calling of a mom, but I need all the help I can get. If there's one thing I've learned in my six short years of parenting, it's that I must have God's word on my lips and in my heart at all times. I must love it. And I must love all of it.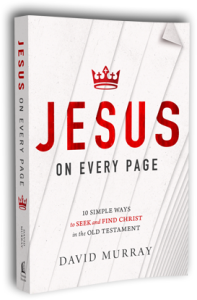 Enter the book, Jesus on Every Page. The aim of this book is to equip believers with eyes to see Jesus on every page of the Bible, and particularly the Old Testament.  David Murray does a fantastic job of stirring up a fascination and wonder of God.
With the expressed desire of leading his readers into deeper intimacy with Jesus, he first shares his journey to seeing Jesus more and more in the OT. He takes time to note that there's neither much teaching done in the Old Testament, nor significant personal time spent there by professing believers. He shares reasons as to why this seems to be the case, and then he proceeds to share ten ways that we can discover and enjoy Jesus as we read the OT.
Ladies, as I read it, I marveled at our God. I don't know if you've ever sat under a pastor or teacher who has made the OT come alive, but it is paradigm-shifting. My first experience was a little over eleven years ago, and my world was rocked–in the best of ways! To have your eyes opened to the life of Jesus in the OT is amazing, and you will never read the Old Testament, or the rest of the Bible, in the same way. This is at the heart of Mr. Murray's writing. He wants everyone to see and know Jesus through the whole Bible. Having experienced and encountered the Lord in this way, He sees the real value and necessity of loving the OT.
As moms, we are primarily teaching our kids about the Lord. As we memorize Scripture, teach the Bible, and as we live a real and messy life before them each day. The opportunities to speak and live the Word of God abound. I want to impart a love for the Lord Jesus through Word of God that takes root in their hearts as the Lord waters it, breathing new life into them.  As I seek the Lord in all of His Word, and pray all of His word over and with my kids, I am able to partner with the Lord in bringing new life to their hearts. But if I don't love and therefore teach the whole of God's word in this way, my discipleship will be sorely lacking.
I would strongly encourage you to pick up this book if you have not experienced what I described above. I think this book will serve to whet your appetite for the OT. As you read, you'll be compelled to dive into the Word in a new way. Love of the Old Testament and the New should be the norm for every believer, and what awaits you will awaken your heart with renewed desire for the Lord. As you begin to see and encounter Jesus on every page, you will be further equipped to impart the Word of life to your children.
Today, I'm giving away one copy to a reader. Entries can be made until midnight this Sunday, September 1st. I'll post a winner on Monday. I hope you win! David is also giving away $100 worth of Old Testament resources to those who buy the book before tomorrow, August 31st. If you're antsy to get the book, check out the deal over here.
Update: The winner is….Ashley B! I'll send you an email with details. Thanks for participating, ladies.